Climatic Chamber and Dynamometer Test
The Weiss Drive-in Climatic Chamber with two or four wheel Dynamometer interface is suitable for carrying out both performance and emission tests in accordance with the relevant international standards.
In addition to the options provided, the chamber can be further customised dependent upon user requirements. 
Product Features
Temperature range typically from -50°C to +50°C
Humidity control from 10%RH to 95% RH
Climatic temperature range typically from +10°C to +50°C
Chamber capacity to suit (various size) single and multiple vehicles
Insulated dynamometer pit
Homogenous conditioning of the test space
8" colour touch panel
S!MPAC/32-bit measurement and control system - can be connected to a PC
Adjustable over and under temperature protection
Circulatory air conditioning unit
Conditioned combustion air supply with filtration
Exhaust gas extract system with exhaust gas fan and gas-tight ducting system
Water or air-cooled refrigeration unit
Vapour tight, corrosion and impact-resistant chamber interior and exterior
Observation windows
Manufactured in Germany
User Benefits
In accordance with the relevant international standards
Trusted by leading automotive manufacturers and suppliers
Entire system designed for use under extreme conditions
Replaced components are recycled or environmentally-friendly disposed
High quality and sturdy design ensures reliability and durability
Easy operation and maintenance
Safety tested with CE certification
Areas of Application
Videos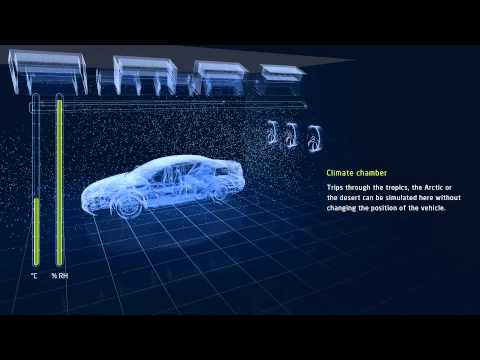 Downloads
Options
Automatic programming of complete climate profiles
Integration with forward motion fan
Car fastener system integrated in the insulation floor
Active carbon filters for combustion air
Customised sizes and designs to integrate into building structure
Further options are available to suit specific user requirements. Please contact Weiss Technik UK for further information.