Industrial Microwave Ovens
Named after the Greek God of handicraft and fire, the Vötsch HEPHAISTOS VHM Microwave Oven is an internationally patented system characterised by a high field homogeneity. For the first time, the benefits of microwave technology have been developed successfully to an industrially mature high technology.
The microwave oven is available in three capacities with an operating temperature up to +400°C.
The oven is ideal for the heating of resin, hardening of complex fibre-reinforced composite structures and the drying of microwave-suitable products.
Product Features
Operating temperature up to +400°C
Choice of sizes - 750, 4200 and 7000 litre
24 magnetrons for the generation of heatwaves, all individually controllable
Fan for cooling of magnetrons
Fibre-optical temperature sensors for working chamber measurement
Homogeneous microwave field
8" colour touch panel
S!MPAC 32-bit control and monitoring system
Corrosion-resistant stainless steel interior (1.4301)
Grey-white electrogalvanised steel exterior (RAL 9002)
Ten access ports for cables
USB, Ethernet and RS232 interfaces
Manufactured in Germany
User Benefits
Energy savings from shorter heating, process and cooling times compared to conventional methods
HEPHAISTOS only heats the product and not the air inside the oven - the chamber itself remains cold
Use of conventional metal tools and feeding systems in the microwave field
Specific, volumetric heating of products. Microwaves penetrate into the material directly and heat the product. As a results, heating rates and throughput can be considerably increased
Improvements in product quality due to homogenous heating. Positive effects and material characteristics are achieved as a result of thermoelectric foils
In addition to control and sensoring, the fabrication process can be adjusted so that overall optimisations of the process chain can be achieved
Broad spectrum of use
Safety tested with CE certification
Areas of Application
Videos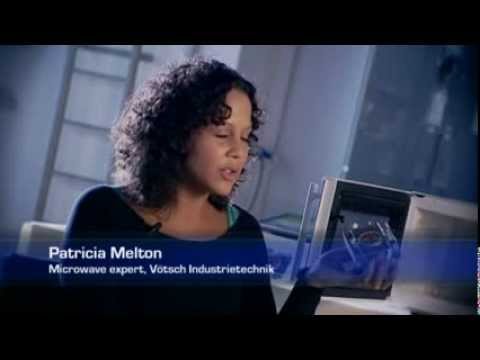 Technical Data
Vötsch Model

VHM 100/100

VHM 180/200

VHM 180/300

Temperature range

400°C

400°C

400°C

Oven volume

750 litre

4200 litre

7000 litre

Hexagon diameter

1050mm

180mm

1800mm

Interior dimensions
(w x d x h)

1050mm x 1470mm x 1800mm

1800mm x 2000mm x 1560mm

1800mm x 3300mm x 1550mm

Exterior dimensions
(w x d x h)

1500mm x 1470mm x 1800mm

4200mm x 2200mm x 2900mm

2600mm x 3500mm x 2550mm

Microwave power

10-14kW

20-30kW

31kW

Energy consumption

22.4kW

65kW

68kW

Magnetron frequency

2.45GHz

2.45GHz

2.45GHz

Nominal voltage/frequency

400V/50-60Hz

400V/50-60Hz

400V/50-60Hz

Weight

850kg

1800kg

3000kg
Options
Exhaust air fan with damper for rated temperature expansion up to 600°C for cooling of the hexagon
Stainless steel charging trolley
Transport trolley
Split design to allow final assembly on site
IR camera to observe temperature profile of goods